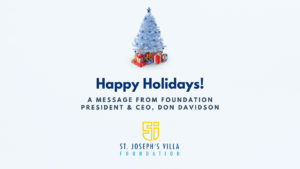 –
From all of us at St. Joseph's Villa Foundation, we wish you the safest and happiest of holidays.
The holiday season is a perfect time for reflecting on the year behind us and rejuvenating for the year ahead. I will forever remember 2021 for both the highs and lows, as we all faced the stark realities of another year in a pandemic.
When times were bleak and fears of the unknown boiled over, I was inspired by all those who make our campus so great. Our residents, families, volunteers and healthcare workers have been leaders in getting us through the toughest of times and we attribute our progress to them. Their dedication, bravery and perseverance to protect the ones they care for is remarkable, and I am so grateful to be surrounded by so many selfless individuals.
The past year also stands out to me as a year where our community came together. From committing to public health guidelines in pursuit of a better future to supporting important community initiatives, I have witnessed the power of a caring community. We have seen this power come to life on our own campus with enhancements to our long-term care home and the opening of Margaret's Place Hospice. The care on our campus is made possible through our strong community.
To our friends, donors, community partners from far and wide, we thank you for standing with us and we wish you happy holidays.
To our healthcare workers and those who will be delivering care over the holidays, thank you. We are so lucky to have you as the centerpiece of our community and your selflessness makes us strong. I hope you find time outside of work to connect with yourself and the ones you love.
We look forward to a great year ahead. Merry Christmas and Happy Holidays!
–
– Don Davidson, President & CEO, St. Joseph's Villa Foundation