March 5, 2021
Comfort & Care in Community Newsletter
Introducing HEROES, our 20th Annual Gala event
HEROES, our 20th Annual Gala event
The past year has been challenging for us all, particularly for residents and essential workers in long-term care homes who are sadly most impacted by COVID-19. When we look back upon this year, we will always remember and cherish our community's compassion for our residents, families, caregivers and staff at the Villa. We call each one of the people who have touched the Villa in any way this year our HEROES.
Abiding by all COVID protocols, we will safely be hosting HEROES, our 20th Annual Gala event, in the afternoon of Wednesday, June 2, 2021. For the first time in its history, the Villa Gala will come home to our staff and residents, who will be our guests. They have been our inspiration during this challenging year, and we look forward to celebrating them.
Gala décor will dress up resident-home areas, and we welcome residents and staff to dress to the nines for their special day. A very special and delicious lunch will be provided.
We look forward to honouring our HEROES! We are so proud of their bravery and perseverance.
To learn about sponsorship opportunities and how you can sponsor a meal for a resident or staff, Click here: https://sjvfoundation.ca/events/gala/ 
.
---
.
Villa staff member recognized at the 2021 YWCA Women of Distinction Awards!
Congratulations to all of the nominees and winners of this years' YWCA's Women of Distinction Awards, shining a light on women who rolled up their sleeves in response to the pandemic.
The Villa's very own, Dawn Martin (pictured above), was a finalist in the Health Care Hero category.  Dawn is a representation of the incredibly dedicated staff who work at St. Joseph's Villa. While COVID-19 challenged them all,  this has been a moment in time when they all truly shined.
Congratulations, Dawn and all of the Villa team, for living the Sisters of St. Joseph's mission every day.
Learn more about Dawn's inspirational story:
.
---
.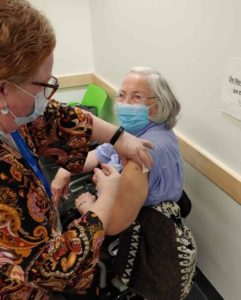 Hamilton begins vaccinations for 85-year-olds and older
This past week, the City of Hamilton expanded its vaccination rollout program to include those 85+. Vaccinating the elderly outside of long-term care is an important milestone in our bounceback from the COVID-19 pandemic.
A long-time friend of St. Joseph's Villa Foundation, Gwyneth Steinnagel, received her first dose of the Moderna vaccine this past Wednesday (pictured above). After a year of isolation and fear, Gwyn is thrilled to have finally received her first dose.
"It's liberating… there is light at the end of the tunnel."
Click here to learn more about the COVID-19 vaccine roll-out in Hamilton
.
---
.
Margaret's Place Hospice Update
It's been a very exciting couple of weeks on the construction site of Margaret's Place Hospice. Halls, rooms and amenities like fireplaces and television inlets have taken shape inside the hospice, making it possible to imagine the beauty and impact this home will have in our community.
Exterior finishing has begun as well, including the installation of the exterior stone veneer. Matching veneer will be installed throughout the Hospice interior.
As we plan for the opening of Margaret's Place, we reflect on our community's amazing support who has truly brought this project to fruition. St. Joseph's Villa Foundation continues to rely on the generous support of our community to provide essential services and programs at the hospice.
Your Gift of Care, no matter how big or small goes a long way.
.
.
---
.
The Villa Poet is back!


.
Glenn Lloyd shares his latest poem, "Lockdown". With spring around the corner and brighter days ahead, Glenn is excited to share some of the poems he is working on in the near future!