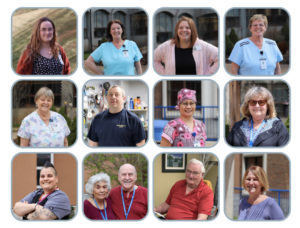 Over the past ten weeks, we have shared the stories of inspirational members of the Villa community. From staff to residents to volunteers to caregivers, we value the role each one plays in making St. Joseph's Villa a better place for everyone.
The people and stories we have shared are just a glimpse of the excellence at our home. We have received hundreds of comments encouraging and supporting our staff, and praising them for their hard work and expertise. We appreciate your support — it is truly a testament to the individuals we have in this community.
Wednesday, June 2, 2021 marks the first time in history that the gala comes back to St. Joseph's Villa, with the HEROES Gala presented by LiUNA!. Our residents and staff will be our guests, enjoying the celebrations from the comfort and safety of their resident home areas. Each resident home area will be decorated in themed Gala décor, with music, flowers, live music and a 'make some noise' drive-by to celebrate the special day. Our residents, staff and volunteers have been our inspiration during this challenging year, and we look forward to honouring them.
We would be grateful if you helped make the day special for everyone. To support a staff member or sponsor a meal, please follow this link and indicate the HEROES gala in the following form.
.
.
Thank you for your support!
We will be safely hosting HEROES Gala in the afternoon of June 2, 2021. After a year of perseverance from our St. Joseph's Villa staff, essential caregivers and residents, gala will be coming home to them for the first time in its history. To learn more about how you can support the HEROES Gala presented by LiUNA! , click here
.