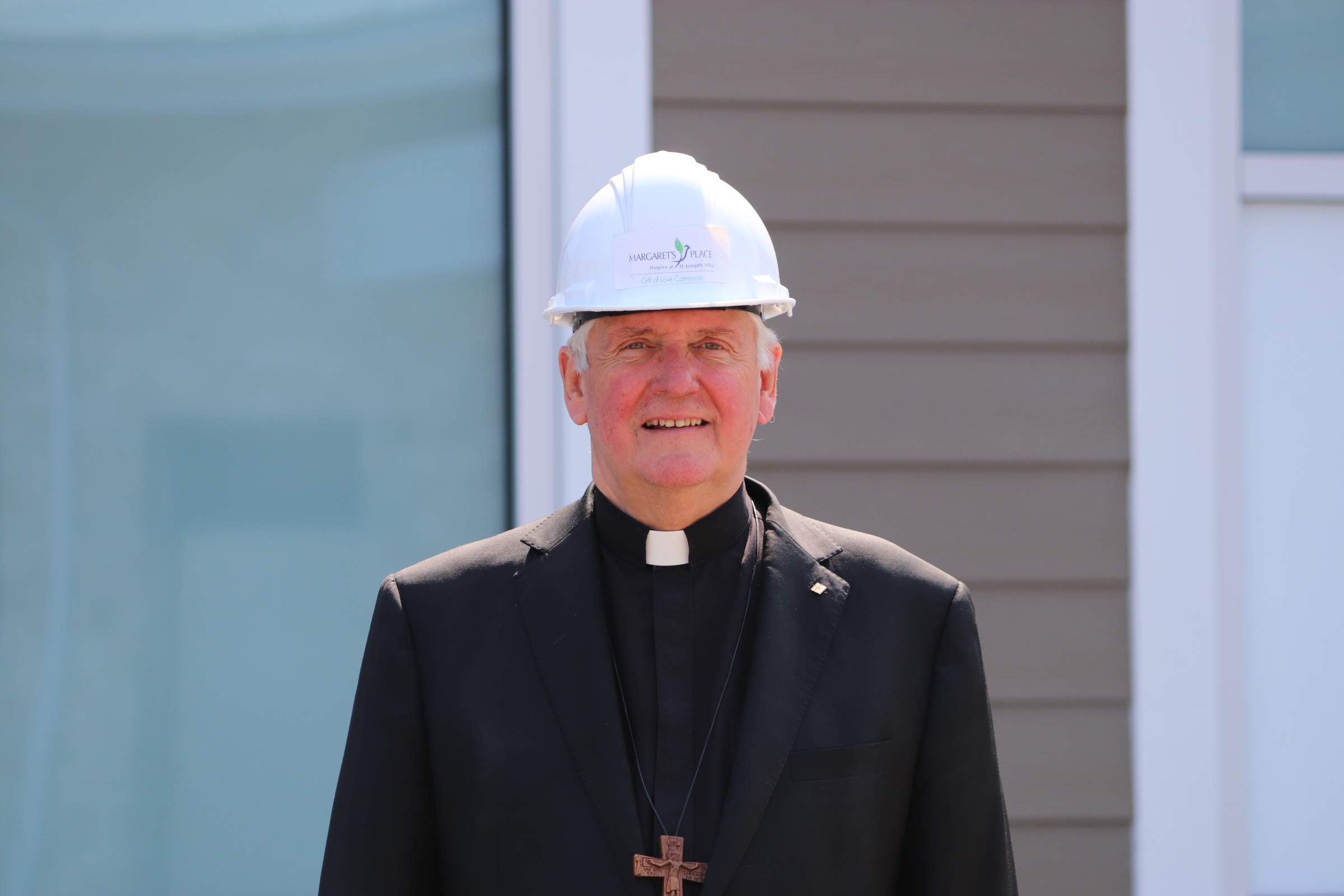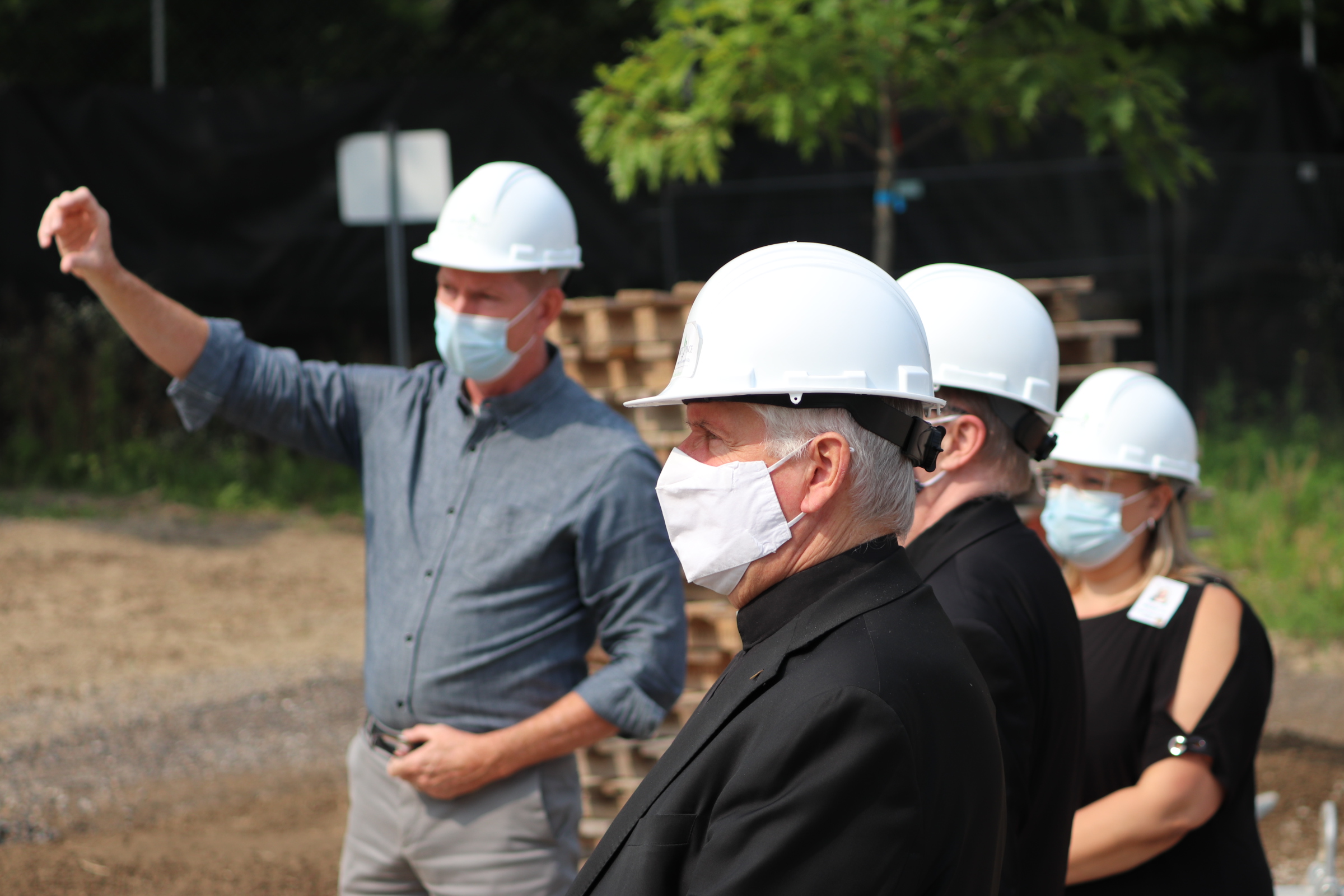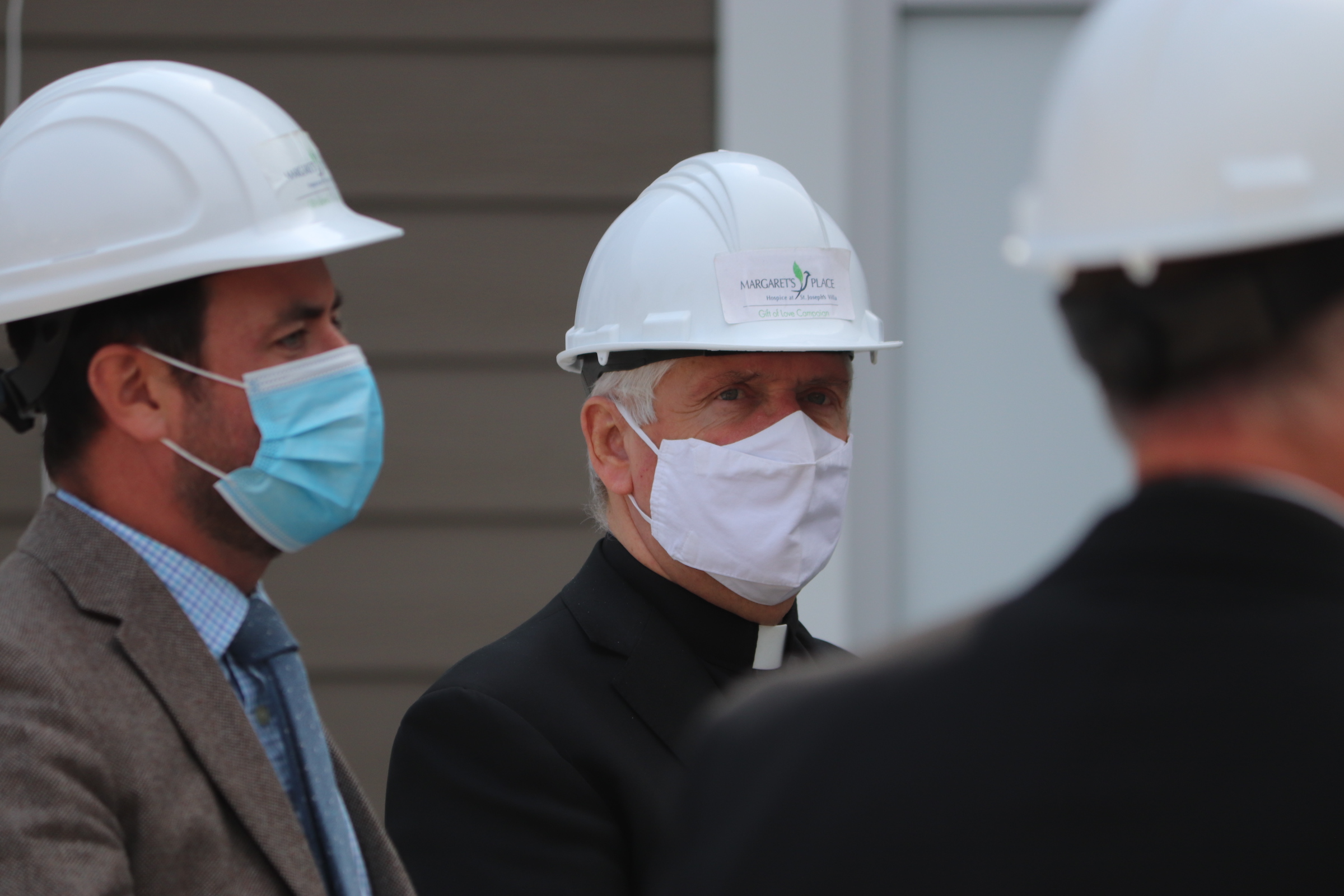 –
Bishop Douglas Crosby and the Diocese of Hamilton team touring the construction site of Margaret's Place Hospice
–
'To have such a grand vision of this in our hometown, there was no question we would get behind it.'
Margaret's Place Hospice is only weeks away from completion. As we prepare for the ribbon-cutting ceremony, we reflect on the many individuals and organizations who made hospice care possible on our campus.
When the vision of a hospice was first presented to the Foundation Board in 2016, it was clear its success relied on several key community leaders and their willingness to support the idea. Of these initial supporters were Bishop Crosby and The Roman Catholic Diocese of Hamilton.
"We felt it was important to support initiatives that allow individuals to enter the next life with utmost peace and dignity," says His Excellency Bishop Douglas Crosby. "To have such a grand vision of this in our hometown, there was no question we would get behind it."
Margaret's Place Hospice is a natural extension of the Villa's work, providing a haven for individuals who face life-limiting illnesses to journey with their families through the final days of life. Each resident of Margaret's Place will be surrounded by a compassionate team who supports their unique physical, mental and spiritual well-being. All this care is complemented by state-of-the-art amenities in the heart of scenic Dundas Valley.
The Diocese connected with this vision and expressed its early support with the inaugural gift of $2-million, which led to a larger campaign to rally our community.
–
'A gift to hospice is a gift of love'
Touched by his eagerness, the Foundation had the privilege of inviting Bishop Crosby to be the Honourary Chair for the "Gift of Love Campaign." His response was a resounding yes, and he went straight to work to bring this initiative to the community.
Bishop Crosby's first line of duty was to recruit a campaign chair.  At the request of Maureen Ellis, former President & CEO, SJV Foundation, he approached Dino Trevisani of IBM Financial Services, a proud Hamiltonian. He was sure the idea of a hospice serving our community would touch Dino's heart.
"I set up a call with Dino and asked for his leadership," says Bishop Crosby. "Dino replied, 'well, how could I say no to the Bishop? I'd have a lot of explaining to do to my mother.' We had a good laugh about that, and he accepted the invitation and was excited to lead the campaign!"
With a leadership team in place, it was time to develop a campaign strategy. Naming the campaign came easy; the Bishop described the Diocese's gift to hospice as a "gift of love." That was it… the "Gift of Love Campaign."
In the summer of 2018, the Foundation launched the campaign with an ambitious goal of $13-million. Many leadership gifts were already in place and the campaign would bring in the community to put us over the goal. In Fall 2020, the "Gift of Love Campaign" exceeded its goal thanks to community support and partners like the Diocese of Hamilton.
"It was an honour to be a part of such a historic campaign in our community," says Bishop Crosby. "We were able to bring together a group of individuals who are truly passionate about the care provided in their community. It was an inspiring experience."
"We knew a $13-million goal was ambitious," says Don Davidson, President & CEO, St. Joseph's Villa Foundation. "But with the amazing community we live in, under the leadership of Bishop Crosby and Dino Trevisani, we knew it was possible. And here we stand, four years later with a hospice set to accept residents in less than a month."
Because of the Bishop's involvement and the financial support of the Diocese, Margaret's Place Hospice will forever be a vital part of our community. The Bishop's leadership was an inspiration to all of us, and we are so appreciative for every dollar raised in support.
Thank you, Bishop Douglas Crosby and the Diocese of Hamilton, for your tremendous support of Margaret's Place Hospice! Your passion for our community has touched the lives of thousands. Your legacy will forever be in Margaret's Place Hospice.
–
–Because of you, we have a Campus of Care! Your support goes toward making St. Joseph's Villa a better place for residents and their families, providing the necessary programs and services to enrich their lives. Give a Gift of Care today!
–
Margaret's Place Hospice update: