April 19, 2021
Comfort & Care in Community Newsletter
A year of silver linings at the Villa
–
#VillaHeroes: over two decades of service at the Villa
.

As we approach HEROES gala on June 2nd, we continue to share the incredible stories of the staff, caregivers and residents at St. Joseph's Villa. Our latest two features tell the stories of Elaine Ford and Adrian Grigorescu, who have both been with the Villa for 20 years.
Elaine has lived a life full of adventure. Moving from Yorkshire, England, she came to Canada with a renewed purpose: to be of service to others. Elaine soon became an RPN and joined the Villa in 2000.  Since then, she has cared for thousands of long-term care residents and has mentored hundreds of students who've come through the Villa. Click here to read Elaine's full story.
Adrian, Maintenace Lead Hand, joined the Villa in 2002 shortly after moving here from Romania. He has since become an integral part of the Villa's maintenance team who leads the industry in innovation. Though he loves his role's technical aspect, he is fulfilled by making residents' home areas a more comfortable place to live. Click here to read Adrian's full story.
Follow us on social media to see our upcoming #VillaHeroes stories!
.
---
.
Support our HEROES Gala — June 2, 2021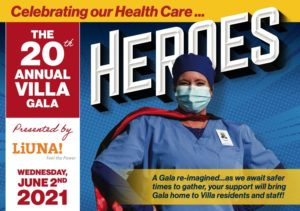 .
HEROES Gala is just around the corner! On June 2, we will be hosting our annual gala at St. Joseph's Villa with our staff, residents and essential caregivers as our guests. We are excited to honour them after such a challenging year.
As the date nears and planning remains underway, we ask you to be a part of history at the Villa with this incredible event. By giving a Gift of Care, you are not only supporting the Foundation in putting on this exciting event, but you are thanking the individuals hit hardest by COVID-19 for all their hard work and perseverance.
FIND OUT HOW YOU CAN SUPPORT THE HEROES GALA 
.
---
.

#VillaHeroes: Bonded by a family tradition
St. Joseph's Villa is proud to partner with researchers at McMaster University in their COVID-19 spit test study. The study aims to make testing for COVID-19 quicker, more accessible and more likely to identify asymptomatic cases.
We welcome all residents, essential caregivers and staff members to spit on COVID-19 and participate in the study!
Learn more about the spit test study!

---
.
Margaret's Place Hospice – Construction Update
The development of Margaret's Place Hospice is transforming our Campus of Care right in front of our eyes. Each and every day, the hospice moves closer to completion. The exterior and interior finishings currently underway emphasize how comfortable and beautiful this home will be for residents and their families.
Windows, doors and exterior stone veneering have been completed, as the siding remains underway in the upcoming weeks. Ceilings have been completed in a number of hallways and rooms, and you can begin to feel the beauty of this Margaret's Place coming to life.
See the progress in the photos below!